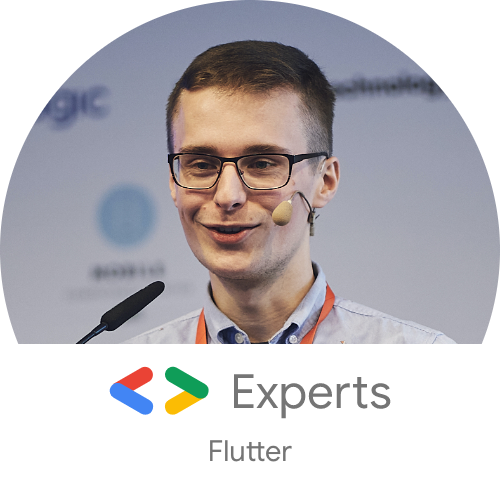 Hi 👋
I'm Dominik and I build apps in Flutter.
I am Google Developer Expert in Flutter and Flutter developer. Let me know if I we can help you with your project. I've been using Flutter since its beginnings and have experience with native platforms as well.
I'm co-founder of Flutter Europe conference. Take a look at the app we build for the event.
I used to co-organize Flutter Warsaw Meetup. Come and take a look at our presentations on YouTube.
Public speaking, especially about Flutter, is something I really enjoy, so feel free to let me know about your event or conference.
Subscribe to my newsletter to never miss a new post
Experience
Jul 2022 – present – Flutter Freelancer
Jun 2020 – Jul 2022 – Very Good Ventures, Principal Engineer and Senior Developer

leading and managing multiple teams of developers
architecting and developing several large scale mobile apps
setting and maintaining company-wide coding standards

Jan 2020 – Jan 2021 – Flutter Freelancer, actively building and maintaining several mobile apps (Flutter Europe, Gdzie Wyrzucić)
Sep 2018 – Mar 2020 – LeanCode, Mobile Developer (Flutter, Xamarin)
May 2017 – Sep 2018 – Pentacomp, Software Developer (.NET, Xamarin)
Space engineering related background
I worked as a deputy manager of PW-Sat2 student satellite project between 2013 and 2019. We sent our satellite into orbit around the Earth on-board Falcon 9 rocket on 3 December 2018. The satellite deployed its deorbit sail on 29 December 2018 and till now (July 2019) is still operational. You can follow its status here and here.
You can find me on Twitter.
I like ramen 🍜.